Coronary Artery Bypass Grafting Or CABG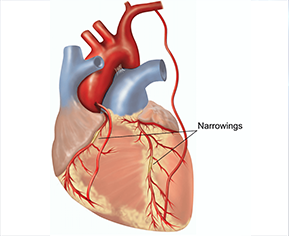 CORONARY ARTERY BYPASS GRAFT (CABG)
Also sometimes referred to as Heart Bypass Surgery is one of the most common types of surgery amongst adults. This type of surgery is conducted when one or more of the blood vessels that transport blood to the heart muscles become partially blocked or fully blocked. It is done to re-direct the blood around the blockage by creating a de-tour or a "by-pass".
It is done by taking a blood vessel from another area of the body primarily from Chest, Arms or Legs. This type of surgery allows the blood to reach the heart again.
More About Treatment
Types Of Coronary Artery Bypass Graft (CABG) or Heart Bypass Surgery
CABG is generally an open heart surgery, wherein, the Surgeon cuts the chest open to reach the heart. It can be of two types: On-Pump & Off – Pump.
On Pump: It generally uses a heart-lung machine which allows the doctors to stop the heart and make the operation easier. Here the machine helps circulate blood and breathes for the body.
Off-Pump: It does not use any machine and the doctor operates while the heart is still beating. Thus, it is also called "beating heart surgery"
Symptoms You Might Have A Coronary Artery Disease
Palpitations

Fatigue (severe tiredness)

Chest Pain

Shortness of breath

Abnormal heart rhythms

Swelling in hands & feets

Indigestion
FAQ's
What is heart bypass surgery?
When arteries become blocked, surgeons create a new channel to bypass the blockage through a bypass graft surgery. It uses a working blood vessel from another part of the body to channel blood around the blocked area.
When is bypass surgery needed?
When plaque builds up it narrows the artery to about 70% of its normal size which is essentially blocked. When this blockage becomes severe it usually requires bypass surgery.
What is multiple bypass surgery?
Sometimes several arteries are blocked, such as there were blockages in all three coronary arteries and one branch, in such cases a person would get four bypasses. This is called multiple bypass surgery or quadruple bypass surgery.
How long does it take to recover?
Once the bypass surgery is completed, doctors start the heart again with electric shocks and turn off the heart-lung machine. Sometimes a temporary pacemaker is attached to the wires and to the chest. Recovery from bypass surgery can be surprisingly rapid.
What is the Average Length of Stay for CABG?
Depending upon the condition of the patient, the length of stay may vary between 4 days to 1 Week but takes lesser hospital stay as compared to the conventional mode of heart surgery
Range Of Treatment Cost