Filler Treatment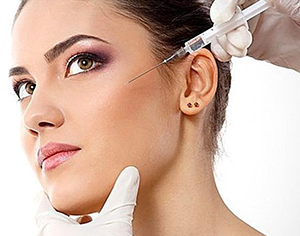 A filler treatment is a procedure that is used to minimize the appearance of facial lines and wrinkles to restore a youthful look. It is done to eliminate the signs of aging amongst those who are not willing to undergo invasive treatments such as a traditional facelift. It works by filling up areas of the face that generally tends to sag to bring back its natural volume and fullness.
More About Treatment
Types of Fillers used in treatment
Hyaluronic acid : It is the most commonly used type of dermal filler and it works by drawing fluid to the specified part of the face that needs a lift. The effects of these fillers typically last around 9 months to 1 year.
Fat graft : A fat graft refers to fat cells that are taken from one part of the patient's body and injected into the recipient site. Since the injected filler is made of actual human fat, the effects of this type of treatment can last for years.
Polymer : Here a man-made and biodegradable polymer substance is used. This has effects lasting up to two years.
Calcium hydroxylapatite : This is another man-made substance used in filler treatment and can keep wrinkles and skin aging at bay for up to 12 months.
Bovine collagen : Fillers like Zyderm and Zyplast use bovine collagen but the patient has to undergo an allergy test at least 4 weeks prior to undergoing the treatment to ensure that he or she will not have any adverse reactions to the injectable filler due to the properties of the substance.
Microscopic plastic beads : Sometimes bovine collagen is mixed with microscopic beads that are made of polymethyl methacrylate or PMMA for permanent results. These stay under the skin even when the collagen melts away; they therefore effectively extend the effects of the treatment to at least 5 years.
FAQ's
What are dermal fillers?
Dermal fillers are substances or gels injected beneath the skin's surface to smooth wrinkles and add volume and contour.
What areas can dermal fillers be used for?
The lips may be injected to improve their shape, size, symmetry, and proportion. The cheeks may be injected to make a face more defined and attractive. A chin may be injected to make it appear more projected and proportionate. The nose may be injected to improve the shape and its contour.
How soon will I see any result and how long does it last?
Results are seen instantly after the treatment, but it improves over the course of 2–4 weeks. It can last between 9–18 months although results can be maintained over a long period of time through regular repeated treatments.
Range Of Treatment Cost