Liposuction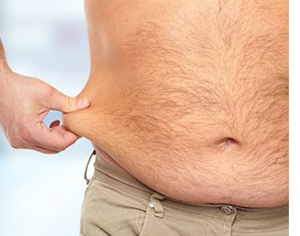 Liposuction is a surgical procedure using a suction technique to remove fat from specific areas of the body, mainly the abdomen, hips, thighs, buttocks, arms or neck. Liposuction also contours in these areas. Liposuction is also commonly called lipoplasty and body contouring. It is not a weight loss alternative.
Why Is It Done?
It is done to remove fat from those parts of the body that has not been responding to diet or exercise such as:
Abdomen
Upper arms
Buttocks
Calves and ankles
Chest and back
Hips and thighs
Chin and neck
More About Treatment
TYPES OF LIPOSUCTION PROCEDURES
Tumescent liposuction (fluid injection)
It is the most common type of liposuction. It involves injecting a large amount of medicated solution into the areas before the fat is removed. Sometimes, the solution may be up to three times the amount of fat to be removed. The fluid is a mixture of lidocaine, a drug that contracts the blood vessels, and an intravenous (IV) salt solution. The IV solution helps remove the fat more easily. It is suctioned out along with the fat. This type of liposuction generally takes longer than other types.
Super-wet technique
This is similar to tumescent liposuction. The difference is that not as much fluid is used during the surgery. The amount of fluid injected is equal to the amount of fat to be removed. This technique takes less time. But it often requires sedation or general anesthesia.
Ultrasound-assisted liposuction (UAL)
This procedure uses ultrasonic vibrations to turn fat cells into liquid. Following which the cells can be vacuumed out. UAL can be done in two ways, external (above the surface of the skin with a special emitter) or internal (below the surface of the skin with a small, heated cannula). This technique may help remove fat from fibrous areas of the body such as the upper back or enlarged male breast tissue. UAL is often used together with the tumescent technique, in follow-up procedures, or for greater precision. In general, this procedure takes longer than the super-wet technique.
Laser-assisted liposuction (LAL)
This procedure uses laser energy to liquefy fat cells. After the cells are liquefied, they can be vacuumed out or allowed to drain out through small tubes. Because the tube used during LAL is smaller than the ones used in traditional liposuction, surgeons prefer using LAL for confined areas. These areas include the chin, jowls, and face. A possible advantage of LAL over other liposuction methods is that energy from the laser stimulates collagen production. This may help prevent skin sag after liposuction. Collagen is the fiber-like protein that helps maintain skin structure.
FAQ's
What is Liposuction?
Liposuction is a surgical technique that improves the body's contour by removing excess fat deposits between the skin and muscle
What to expect from the surgery?
After liposuction, the new body's shape is permanent. If a patient does gain a moderate amount of weight after liposuction, then the figure will simply be a larger version of the new body shape.
Can the removed fat grow back?
No. Fat cells that are removed by liposuction do not grow back.
Which Body Areas can be treated by Liposuction?
The most frequently treated areas for women are the abdomen, breasts, hips, thighs, knees, arms, buttocks, cheeks and neck. In men, the most commonly treated areas include the chin and neck area, abdomen and male breasts
Range Of Treatment Cost