Kidney Transplantation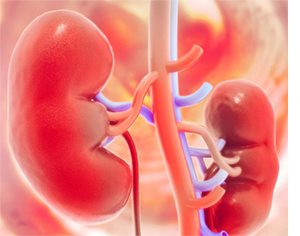 KIDNEY TRANSPLANT
A kidney transplant is a procedure to replace a damaged kidney with a healthy one from a living or deceased donor. It is mostly carried out on patients whose kidneys no longer function properly.
The primary role of the kidneys is to filter and remove waste, minerals and fluid from the blood by mode of urine. However, when kidneys fail to undertake this filtration process it may result to kidney failure. End stage kidney failure occurs when kidneys have lost about 90% of their ability to function.
More About Treatment
Causes of Kidney Failure:
Diabetes

Uncontrolled high blood pressure

Chronic Glomerulonephritis

Polycystic Kidney Disease
Who Can Be Your Donor?
Living Donor: A person can get a kidney from any family member having two healthy kidneys and who is willing to donate one of them. Since a person's body can function well with one kidney only. However, it is important that the family member's blood and tissue match with the recipient. This reduces the chances of a person's body rejecting the kidney.
Deceased Donor: Also known as Cadaver donors, it is basically replacing a diseased kidney with a healthy one from a person who has died. It is always preferred to take kidneys from someone who died resulting in an accident rather than a disease. Either the donor or the family has opted for kidney donation of the deceased.
FAQ's
Why should I consider a kidney transplant instead of dialysis?
Dialysis is a life-saving treatment but does only about 10 percent of the work that a functioning kidney does. Dialysis can also cause other health problems. Patients typically live 10 to 15 years longer with a kidney transplant than if they stayed on dialysis. Also, transplantation offers them a much better quality of life.
Am I eligible for a kidney transplant?
Being a good candidate for transplant depends upon your physical health, emotional well-being, and ability to manage medication and care plans.
When is the best time to get a transplant?
If at all possible, it is best to have a transplant before you have dialysis or spend a long time on dialysis. Patients who have a living kidney donor have the best chance of avoiding dialysis or being on dialysis for less time than if they had to wait for a deceased donor kidney.
What if I reject my new kidney?
Rejection is a signal that the immune system has identified the new kidney as foreign tissue and is trying to get rid of it. Preventing rejection with immune-suppressing medication is the first priority. This is why frequent blood testing in the first three months after transplantation, and regular testing after that is prescribed.
Range Of Treatment Cost