Dialysis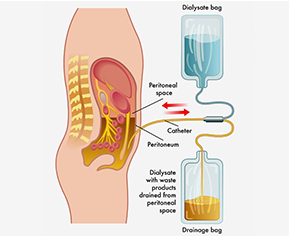 Dialysis is a procedure that completes some of the functions otherwise done by healthy kidneys. It is done when your own kidneys can no longer perform the kidney functions. Dialysis can either be done in a hospital, or in a dialysis unit that is not part of a hospital, or at home. Certain kinds of acute kidney failure improve after treatments. In some cases of acute kidney failure, dialysis may be needed for a short time until the kidneys get better and then stop kidney dialysis.
In chronic or end-stage kidney failure treatment without dialysis is not possible as the kidneys do not get better and dialysis will be required for the rest of the life. The requirement of dialysis when you develop end-stage kidney failure usually happens by the time when you lose about 85 to 90 percent of the kidney function and have a GFR of <15.
TYPES OF DIALYSIS
Broadly there are two types of Dialysis:
Hemodialysis: In this procedure, an artificial kidney referred to as hemodialyzer is used to remove waste and extra chemicals and fluid from the blood. In this procedure, the doctor needs to make an access or an entry point into the blood vessels. This is done by minor surgery to your arm or leg. However, occasionally, an access is made with the help of a narrow plastic tube basically referred to as a catheter, which is inserted into the large vein of the neck. This type of access mostly temporary, but sometimes may be used for long-term treatment.
Peritoneal Dialysis: In this type of dialysis, the blood is cleaned within the body. The doctor will conduct surgery to place a plastic tube called a catheter into the abdomen to make an entry point. During the treatment, the peritoneal cavity is slowly filled with dialysate through the catheter. The blood stays in the arteries and veins that line the peritoneal cavity.
More About Treatment
WHAT DOES DIALYSIS DO?
Dialysis generally performs the following functions and keeps the body in balance by incorporating the following functions:
Removing waste, salt and extra water that helps to prevent them from building up in the body

Keeping a safe level of certain chemicals in the blood, such as potassium, sodium and bicarbonate

Helping to control blood pressure
FAQ's
If I have kidney disease, will I need dialysis?
The early stages of CKD can last for many years without the need of dialysis. But if kidneys fail, dialysis or a kidney transplant depending upon the severity will be needed..
If I have kidney disease, how long will it be before I need to start dialysis?
That depends on what stage of CKD you are in and how quickly it progresses.
When should I start dialysis?
It is recommended that dialysis should be started when kidney function drops to 15 percent or less and if you have severe symptoms caused by the kidney disease, like shortness of breath, fatigue, muscle cramps or nausea.
If I start Hemodialysis, how often will I have to get treatments?
The usual schedule for in-center Hemodialysis treatments is three times a week. The length of your treatment depends on what is prescribed. However, three to four hours is common.
Range Of Treatment Cost