Ankle Replacement Surgery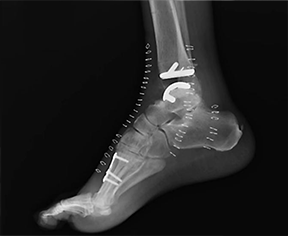 Ankle Replacement Surgery
It is generally done when the ankle is injured or damaged to the core. During the procedure, a surgeon replaces the injured ankle with an artificial implant. This helps relied pain and swelling of the ankle that may have been caused from conditions such as Arthritis, any kind of physical injury or strain.
Types Of Ankle Replacement Surgery
When To Consider Ankle Replacement Surgery?
Rheumatoid Arthritis
Osteoarthritis (Degenerative Joint Disease)
Arthritis
Severe Fractures
Frequently Asked Questions
Ankle Replacement Surgery Content Details Currently Not Available
Top Hospitals
Rating :
ANKLE / TIBIA FRACTURE - ORIF / CRIF WITH SCREWS / TBW -
VS Hospitals Pvt. Ltd.
Hospital Profile Description Currently Not Available
Rating :
ARTHRODESIS - WRIST / ANKLE / SUBTALAR -
VS Hospitals Pvt. Ltd.
Hospital Profile Description Currently Not Available